Commonly Confused Words: beside / besides
Beside
Beside is a preposition, meaning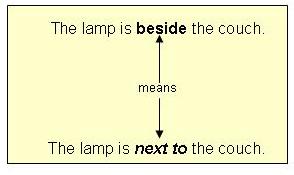 Note: Beside has two additional meanings when used in idiomatic expressions.
1. not relevant to
Example

2. in a state of extreme excitement
Example

Besides
Besides is a preposition. It has two meanings:
1. other than, except
Example

2. in addition to
Example

Link to exercise on beside / besides.