May 2016
TUPD Receives International Crime & Safety Accreditation

Towson University has received accreditation from the International Association of Campus Law Enforcement Agencies (IACLEA). Towson is the first four-year institution in Maryland to receive this honor. The institution has earned this recognition after an assessment and peer review was conducted of TUPD's effectiveness in fulfilling 21 key standards of campus policing, including crime prevention and emergency preparedness. Less than five percent of over 1,000 IACLEA member colleges and universities have this accreditation. Read More >
---
Active Shooter Response Training Open to the Public
On Thursday, June 9th Towson will be holding an active shooter training, which is open to the public and campus community. This will give participants the opportunity to learn different strategies and tips for surviving an active shooter situation. This seminar will be held from 8:30 am – 12:30 pm in the West Village Commons Ballroom. Registration prior to the event is required. Read More >
---
Summer Camps & Programs at TU
Towson University offers a variety of Summer program and camp options for kids to participate in. Each one held on campus provides participants with the opportunity to explore an area of interest while having fun. Whether your child is looking to learn more about the arts, science, or athletics, there's a program for everyone to enjoy. Read more >

Who Should I Call?
General Inquiries
Office of the President
410-704-2356
neighborhoodrelations@towson.edu
Disorderly Behavior
Student LIFE line - Office of Civility Education and Student Conduct
410-704-LIFE* (5433)
studentaffairs@towson.edu
Campus Safety
Towson University Police
Emergency Call 911
Non-Emergency 410-704-4444
Related Links
Points of Pride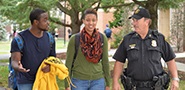 This past academic year, Towson University had a decrease in campus crime by 14 percent. Countless staff members are continually working hard to provide a safe environment for all of the campus community. Safety on campus has and will continue to be one of Towson's top priorities.